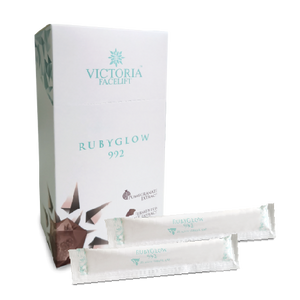 NEW!! RUBYGLOW 992 25ML*15 [VA992S-2]
SUITABLE FOR
ALL SKIN TYPES
DESCRIPTION
An unrivaled masterpiece that sets to atone aging skin to velvety smoothness. Enriched with Pomegranate Extract, the RubyGlow delivers sumptuous comfort to entrance a power of youth and glow to the skin with daily consumption.
DIRECTION OF USE
Consume 1 sachet an hour before sleep, daily.
WHEN TO USE
Recommended Intake: Night
ACTIVE INGREDIENTS
POMEGRANATE EXTRACT
A potent antioxidant that effectively combats multiple stressors that lead up to aging skin.
RESVERATROL
Its antioxidant levels are equivalent that of 200+ cups of strawberries, effectively building ulterior protection for the skin.
ACEROLA CHERRIES
Enriched with Vitamin A, B, C, and Fatty Acids. Delivers a range of nutrients the skin needs in order to remain youthful.
COMPLETE INGREDIENTS
Water, Concentrated Pomegranate Juice, Erythritol, Pomegranate Extract, Acerola Cherry Extract, Flavor, DL-Malic Acid, Fermented Yeast Extract, Green Tea Essence, Xanthan Gum, Acai Berry Extract, Rice Essence, Sucralose (Sweetener), Black Currant Extract, Apple Essence